I realise now that I haven't updated you all in about a week so to amend that, I'm trying to squeeze as much in to this post with out it becoming a novel.
I can't say an awful lot happened last week. We occasionally went out after work for a few drinks or a meal but it was quite busy in the office so they were quiet nights after long days. On Saturday we were picked up by Rachel at 6.20am to go to Wills house over in West Seattle to watch the FA cup. Will supports Man Utd and his wife supports Chelsea so that made for some entertainment. If you didn't see it, the game was pretty average and wasn't helped by the lack of scoring chances. We left pretty soon after the lifting of the cup and the other Kevin drove us back to Bellevue. I crashed out for about an hour or two before laying about for the rest of the day playing computer games.
On Sunday, hoping to be a little more energetic, we got the 550 bus to downtown Seattle and went looking around the shops there. The bus was pretty comfortable and the whole journey took under 30 mins on the freeway - and it only cost $2.50 each which is reasonable I guess. We also had a quick look around Pike Place Market which I saw a few times when I was last here. In true tourist style, neither of bought anything the whole day out. Well I bought a game for the Nintendo DS. We also had dinner out in Seattle before waiting around on 2nd Avenue for the bus back to Bellevue.
Monday was a very long and slow day. Megan and I were working on a problem that took about an hour to test each time, only to find out it was still broken. By the end of the day though, we finally got it working! Shaun and I went shopping that evening and then made a Hoisin Pork with rice noodles effort which was much better than we thought it would be. Oh, I'll be sure to pick up a jar of the MSG Flavouring I saw in the supermarket!
Anyway, the big event was yesterday. The company held a shin-dig for the completion of a successful project and took all the employees out
here
for the afternoon! You'll have to excuse the terrible website but I guess they run on word of mouth.
We all got shuffled out of the office at around 12 to the party bus. Which looked more like it was our one way trip to prison on the outside!
But on the inside there was definitely a party atmosphere!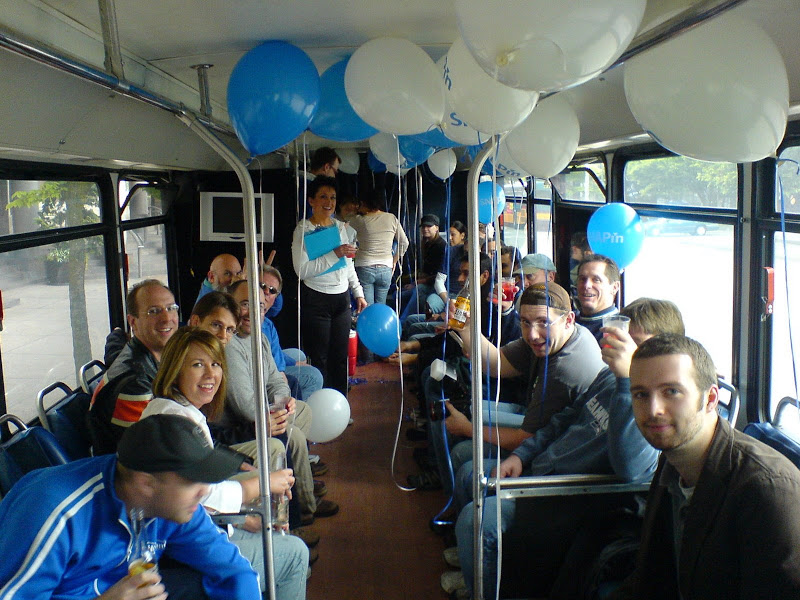 We started drinkin' on the bus and that was generally the theme throughout the rest of the day!
For a selection of photos go
here
.) Astoundingly, no one here has even heard of Vodka and coke, and were horrified when I made myself one at the bar on the bus. We played a bit of football (soccer) on the bus as well and eventually arrived at Funtasia Family Fun Park. We had the whole place to ourselves pretty much, and the company gave us all cups full of quarters to go on the arcades. There were no lines for anything and it was all free which made it all the better! So we all played around on the arcades, had goes on the batting cages, laser tag, bumber cars, go karts and more arcades. It was a really fun time and a good chance to socialise with people from all over the company. Needless to say it was all a bit of a drunken haze. We got back to the office and played some ping pong (read: table tennis) before going to Las Margaritas where the night ended for most of us. I was in bed by 8pm and was completely trollied. Shaun has no idea how he got home and the majority of today has been spent nursing hangovers and telling each other what we did yesterday.
I suppose I should aim to get some work done but I may have to find something for my headache first.
Hope you're all well!
-Kevin